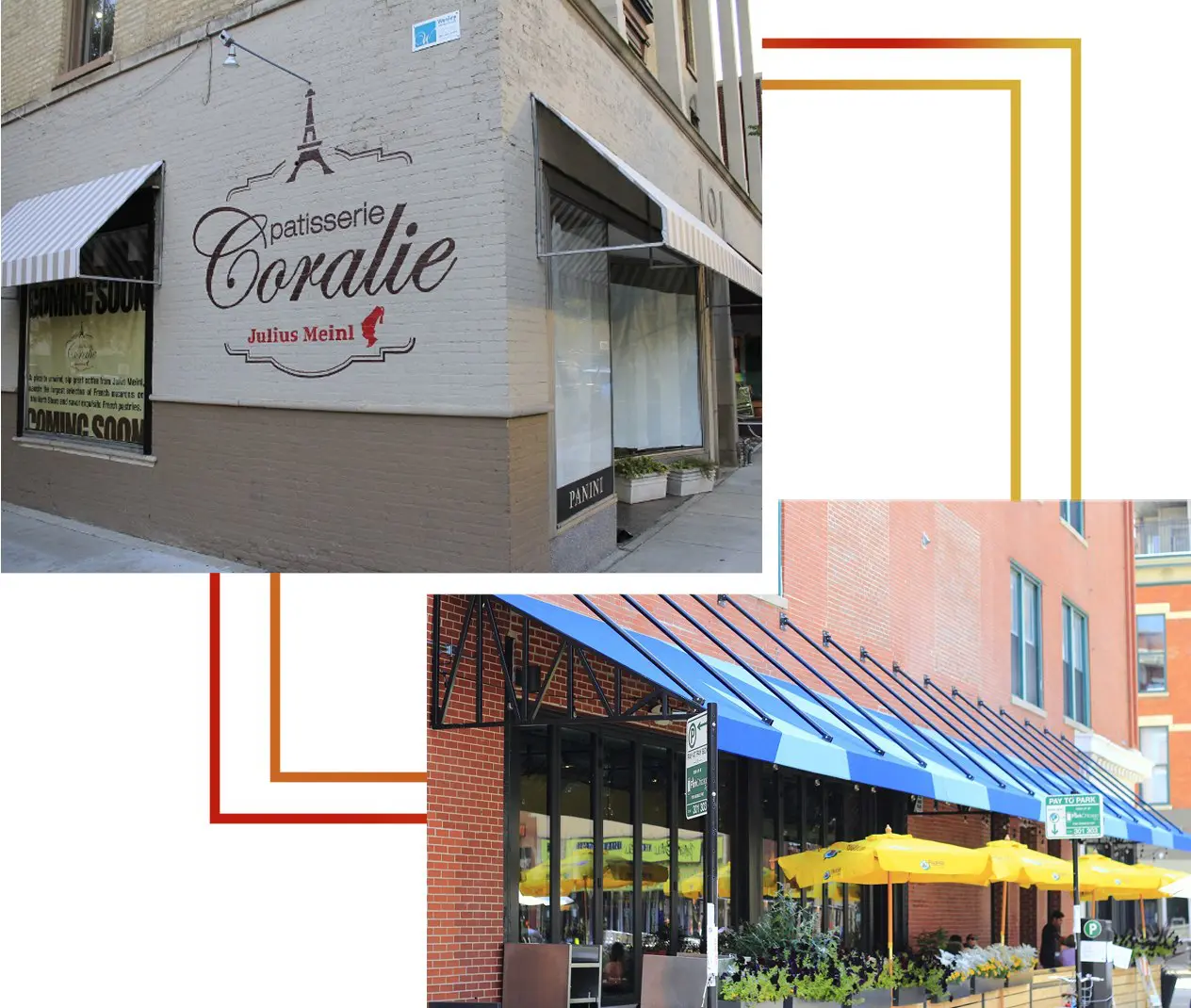 Evanston Awning is a leading manufacturer of awning products for all types of commercial applications. We can enhance your business image with a beautiful, colorful awning and optional signage, graphics, and lettering of your choice. Our commercial awnings are seen in all the best places—shopping malls, restaurants, office buildings, and hotels.
Our customers benefit from our knowledge of and assistance in obtaining required permits. Our all-custom commercial work covers storefront awnings, entrance canopies, sidewalk café canopies, wind/smokers' enclosures; specialty awnings and projects for the movie industry, including film, video, and television; and graphics and signage in various forms for almost any application.
Our awnings provide a functional elegance that will provide your business with 24/7/365 days of distinct visibility, as well as protect your interior furnishings, window dressings, and shade exteriors. We have many fabrics and colors from which you may select.
Our awning frames are welded Gatorshield galvanized steel or aluminum tubing. We always ground and prime all welded frames that can be painted a color to match your selected fabric. Various methods of fabric attachment are used, such as aluminum track, lace-on, staple-on, and tek screws.
The application of lettering, signage, or graphics to an awning can be done with the certified and warranted Sunbrella Graphics System or applied vinyl adhesive or paint-on. If lettering, signage, or graphics to your awning or windows aren't enough, maybe our ability to provide stationary signs (non-illuminated) can give you the advertising you are looking for.
Our available fabrics include:
Our warranty policy includes:
Evanston Awning can provide a cost-effective solution to any business. Call for a free on-site estimate at (847) 864‑4520, or email us at [email protected].